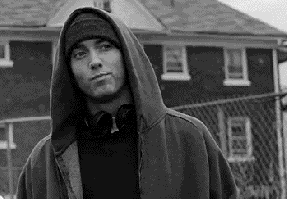 About Eminem:
Eminem (born Marshall Bruce Mathers III) is a rapper and record producer. He is considered to be one of the most controversial and best selling-artists of the century. His most popular albums are The Slim Shady LP, The Marshall Mathers LP, and Recovery. The Slim Shady LP (which was one of the albums we analyzed for this project) was released in 1999 and went multi-platinum. Eminem also received two Grammy awards and four MTV Videos Music awards for this album.
He was born on October 17, 1972 in Missouri. His father, Marshall Mathers Jr., abandoned the family when Eminem was just born and ended all contact with Eminem. His mother, Deborah, raised him and she struggled to maintain a job for longer than a few months. They moved quite often between Missouri and Detroit. Eminem recalled that he would change schools two or three times a year and that this time period was the toughest during his childhood. He didn't have many friends, was very introverted and was treated as an outcast. He was also bullied a lot at each new school. Eminem accused his mother of not properly raising him and expresses this through his song lyrics, noting her addiction to prescription drugs and subjecting him to emotional and physical abuse. He ended up failing ninth grade three times and then dropped out of school completely when he was 17. However, he was very passionate for language, and would always be reading, even the dictionary. Because of Eminem's very wide range of vocabulary, he found his passion for hip-hop and creating songs.
During the late-1980s and the early-1990s, he entered into many rap competitions in Detroit. This was a unique case since at this time rap music was only produced by African American people, while Eminem is a Caucasian. Despite his racial background, he was able to prove himself and gain the upmost respect of this rap scene because of his advanced level of vocabulary and verbal sparring. He started to use the stage name, M&M, which referenced his initials, but then changed it to Eminem. He then started to date Kim Ann Scoot, and the two had a daughter together, whose name is Hailie. Because he wanted to give his daughter a better life than he had, he released his first album, Infiinite (the other album that we analyzed in this project). However, he did not profit from this album and was only recognized on a local level.
Eninem then released The Slim Shady EP, which was discovered by the famous rapper and producer, Dr. Dre. Extremely impressed by Eminem's rap songs, Dr. Dre signed him immediately to his Interscope Records label. Then they released the album, The Slim Shady LP, two years later. It was a huge success and sold over three million copies.
Britannica.com Eminem Biography
---
Lyrics
---
The Slim Shady LP
Brain Damage
If I Had
'97 Bonnie & Clyde
Role Model
Cum On Everybody
Rock Bottom
Just Don't Give a Fuck
As The World Turns
I'm Shady
Bad Meets Evil
Still Don't Give a Fuck
Infinite
It's Okay
313
Tonite
Maxine
Open Mic
Never 2 Far
Searchin'