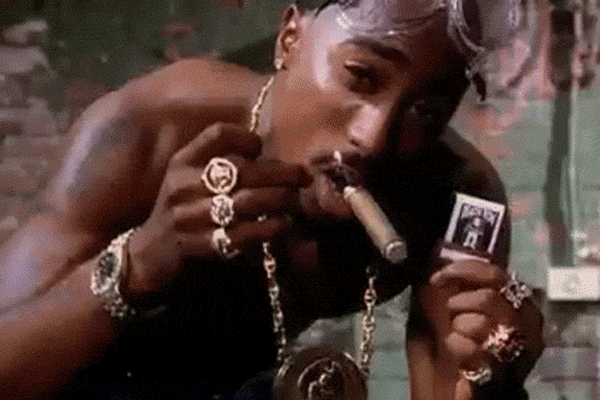 About Tupac:
Tupac Shakur was a rapper who was the face of the 1990s gansta-rap era. He is one of the top-selling artists of all time and has sold over 75 million albums. Tupac used rapping as a medium to communicate the injustices for the African-American population. (More on the album)
Tupac was born to Alice Faye Williams, a member of the Black Panther Party, on June 16, 1971. Similarly to Eminem, he spent most of his childhood moving around to different locations. The family then settled in Baltimore and he ended up attending the elite Baltimore School of the Arts. He excelled as a student, receiving distinguished honors. However, before he could graduate, his family had to relocate once again to Marin City, California. There he started to sell drugs and got involved with the gang culture. This new lifestyle contributed to some of his rap lyrics later on. He then joined Digital Underground in 1990. He performed two albums called This is an EP Release and Sons of the P. before coming out with 2Pacalypse Now (a selected album for the project).
2Pacalypse Now was a divergence from the typical dance party music of Digital Underground and was more similar to Public Enemy and West Cost gangsta rappers. Even the album was limited to radio appeal and criticism made by Vice President Dan Quayle on the song "Soulja's Story" during the 1992 presidential campaign, it still sold very well. Tupac then was ranked amongst the other famous rappers like Ice Cube and Ice-T. As Tupac became more successful, his gangsta lifestyle was magnified even more. He was convicted of sexual assault on a number accounts in 1994 and then served eight months in prison. He signed with Death Row Records for his next album release, which ended up being All Eyez on Me (other album being analyzed). This two-disc album refers to his embodiment of his gangsta lifestyle. The album sold more than five million copies in the first year and debuted at number one on the Billboard charts.
Unfortunately, Tupac was shot various times by an unknown person when he was leaving a Las Vegas casino on September 7, 1996. It is believed that this occurred due to the strong, ongoing feud between the East Coast and West Coast rap scenes. He died a week later. Although he had a short career, his legacy still carries on to this day and he is an icon for the rap community. Even into the 21st century, more 2Pac albums have been released, which are mostly repackaged or remixed existing songs.
Britannica.com Tupac-Shaktur Biography
---
Lyrics
---
All Eyez On Me
Ambitionz As A Ridah
All About U
Skandalouz
Got My Mind Made Up
How Do You Want It
2 Of Ammerikaz Most Wanted
No More Pain
Heartz Of Men
Life Goes On
Only God Can Judge Me
California Love
2Pacalypse Now
Young Black Male
Trapped
Soulja's Story
I Don't Give A Fuck
Violent
Words of Wisdom
Something Wicked
Crooked Ass Nigga
If My Homie Calls
Brenda's Got A Baby
Tha' Lunatic
Rebel Of The Underground
Part Time Mutha